We've all had our experiments with wood, charcoal, and even gas when cooking outdoors, but did you know that charcoal was originally used for several other reasons including art, medicine, makeup, and metallurgy?
Image By DryPot – Own work, CC BY-SA 3.0, https://commons.wikimedia.org/w/index.php?curid=12649706
Charcoal in Art
Charcoal has been used as a pigment for ages to represent the color black. From the earliest paintings and inscriptions to modern art, charcoal is a favorite among a long lineage of expressionists and artists alike. Furthermore, charcoal is microscopically absorbant and can be used as a pigment for dyes used to create black and grey fabrics.
Charcoal in Medicine
Charcoal is one of a few age old home remedies for dietary and digestive issues. For centuries people of the ancient world all the way to today have used charcoal to settle stomach aches and other digestive issues. It is so popular that charcoal is still used today in pill form to address and treat ailments.
Charcoal in Metallurgy
Charcoal is a fairly clean burning fuel when compared to wood and other organic rich fuel sources. That's because charcoal has been through a process called pyrolysis, which is like fire anaerobics for trees. That means that wood or other vegetation like Bamboo, is heated to high temperatures with the absence of oxygen which consumes the organic matter and water and dries out the vegetation forming a charred black carbon substance we call charcoal. Since the wood has been burned once, the main byproduct, smoke, is cut in half leaving a combustible substance that puts out way less smoke. When you have less smoke, you can forge and weld metals with fewer impurities which allows for a better quality metal. Charcoal has fueled blacksmith forges from the early beginnings of the bronze, iron, and industrial ages throughout today.
Charcoal in Cosmetics
Like the dyes and paints mentioned before, charcoal can be ground into a microscopic powder pigment and used in a wide variety cosmetic products because it is absorbed very well by the skin and has staying power. Maybe she's born with it? Maybe it's Royal Oak?
Charcoal in Cooking
Naturally charcoal is a fuel of choice for many barbecue enthusiasts, and it's American as Ellsworth B. A. Zwoyer… Yep that's right, charcoal as we know it in the briquet form was invented by Zwoyer in 1897 in Pennsylvania. So 6 years before the Wright Brothers were jumping off of sand dunes with a giant kite, Zwoyer was getting a patent on charcoal, literally one of the most abundant and widely used fuels in the world, because he made it into nice consistent square briquets. And you thought Steve Jobs was a visionary. LOL. This guy reinvented reburning wood and patented it.
It doesn't stop there though, Henry Ford got into the game and changed it FOREVER. Henry Ford needed a way to recycle and reuse wood byproducts and horsefeed used in his automobile factories so he took the charcoal briquet idea and ran with it. He began producing charcoal and selling it which founded a little company called Kingsford.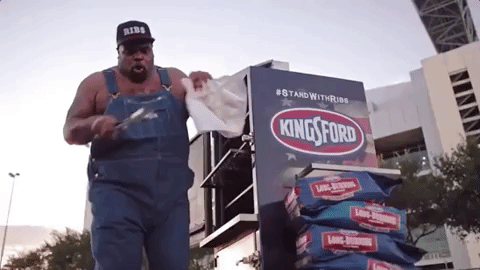 So what does all this have to do with Jim Quessenberry BBQ? Well for one you won't be seeing us using any of Hank Hill's propane and propane accessories, but furthermore, we prefer to cook most everything with charcoal for a smooth, longlasting, and well controlled fire. I prefer Kingsford, but Royal Oak will do in a pinch. I suppose that makes me a Ford man afterall.
Tell you what, why don't you grab a bottle or two of the good stuff in our shop and share some of your charcoal grilling techniques with us. We'd love to hear your stories.