Lots of things have happened lately in our little part of the world of barbecue, but it's been such a busy day that I haven't had time to tell you all a story. Instead, I have challenged myself to think of as many slang, jargon, and technical terms about barbecue so that you can have a laugh or become more knowledgeable or both.
Texas Crutch – This is a technique where simply wrapping the entire cut of meat, whether pork or beef, in aluminum foil to speed up the cook time and tenderize the meat. It allows very little moisture to escape and significantly decreases the time it takes to reach a desired internal temerature. Some frown upon it, but we use it in many different cases for a variety of simple and effective reasons.
Indirect Heat – Cooking a piece of meat that is offset from the heat of the grill or firebox. The heat is transferred through convection to the meat for a slow and juicy cook. When mixed with smoking techniques you get a juicy and delightfully smoky flavor.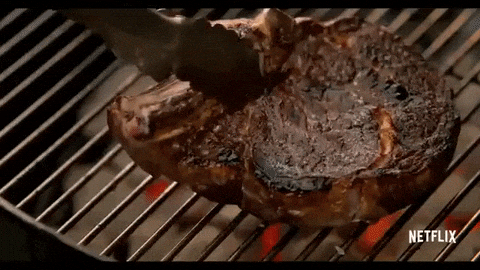 Direct Heat – Just like it sounds. Steaks, burgers, and pork chops are mostly cooked on a hit grill or surface directly over the source of heat. Think conductive heat.
Cold Smoking – It's not quite what it sounds, but cold smoking is when you cook meat slowly, and I mean s-l-o-w-l-y over a reduced amount of heat. Think of a smokehouse that makes smoked jerky. The cooking is done at temperatures often in the 100-200 degree range and over several hours to days. It's a unique and traditional form of cooking where meat is often hung up in closet sized sheds and smoke is flowed through the chamber from a very indirect heat source.
Temps – Slang for checking the temperatures of both the meat and your smoker or grill.
Whole Hog – Literally a whole pig that is roasted over a fire or indirect heat.
Babyback Ribs – Ribs from the back near the loin of a pig.
Spare Ribs – Ribs from the bottom or stomach area of the pig.
Yard Bird – Chicken.
Marinading the Chef – Drinking beer, booze, or spirits while you wait on a large cut of meat to cook.
Dry Ribs – Ribs that are often associated with Tennessee characterized by an abundance of chili powder, paprika, red pepper, or other spices to form a dry texture on the surface of the ribs. Traditionally served without barbecue sauce on them.
Wet Ribs – Ribs served with an abundance of barbecue sauce slathered onto the surface of the ribs.
Well Done Steak – To plead with the chef or grillmaster requesting that you'd like to be punched directly in the face for being a giant moron with terrible taste.
Turbinado Sugar – Raw sugar from the cane.
Red, White, and Black – A commonly used rub recipe consisting of chili powder, salt, and black pepper.
White Sauce – Something Big something Gibson something something Alabama tradition… We sell our own. You can buy it here.
Table Sauce – A sauce like Heinz 57, A1, Worcestershire, etc.
Serving Sauce – A sauce you would serve your BBQ dish with or prepare the dish with near the end of the cook or just after when you're ready to serve. Could be considered a finishing sauce.
Thermometer – A fancy heat measuring device that nearly always goes missing.
Hickory – God's gift to mankind so fire would have purpose.
Gas Grill – Something you take to a metal recycling facility for pocket change.
Have any others you'd like to add? Send us a comment below.